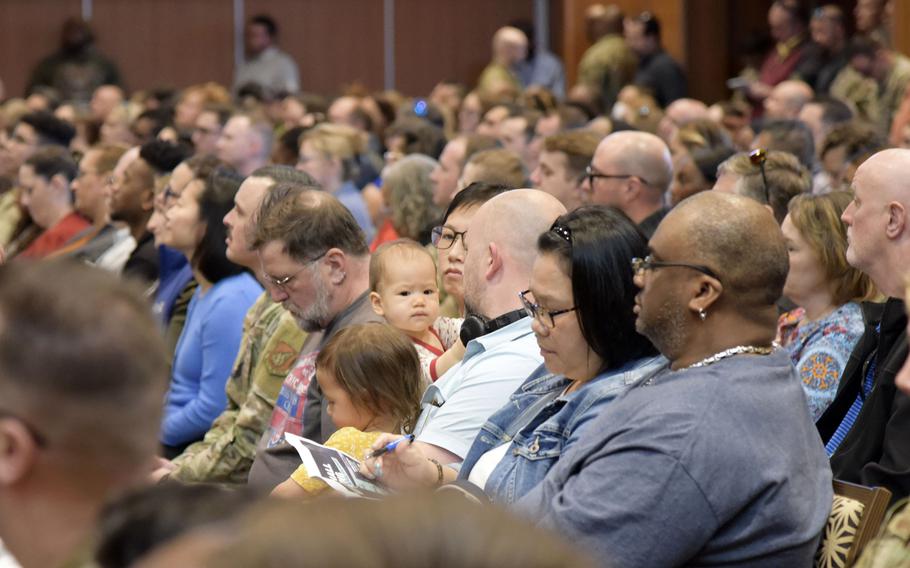 CAMP FOSTER, Okinawa – Dr. Maisha Smith, one of two child clinical psychologists at the US Naval Hospital Okinawa, stepped up to the microphone at a town hall here on Friday evening to talk about the wrist she injured in July.
It requires surgery and can cause lifelong pain because they don't receive timely treatment, Smith said. He had to leave Okinawa for six months for the procedure and follow-up treatment.
"This will leave one pediatric clinical psychologist, whose duty is active, to meet the needs of psychological evaluation for the whole island," he said. "Now, my dog ​​has better access to basic health care than I do."
Smith was among more than 500 civilian employees and concerned service members who packed the base's theater to discuss recent changes to medical care on the base with Gilbert Cisneros Jr., the deputy secretary of defense for personnel and readiness, and Seileen Mullen, assistant secretary of defense. acting. defense for health matters.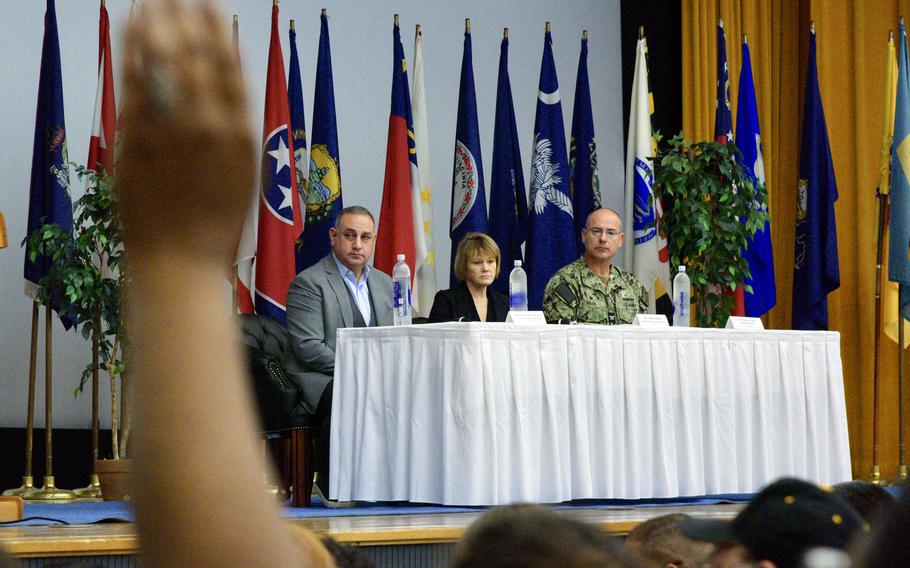 The town hall followed a standing-room-only event on Wednesday at the Kadena Air Base enlisted club that also drew more than 500 people. On Thursday, Army Maj. Gen. Joseph Heck, director of the Indo-Pacific Defense Health Agency, held a similar meeting at Sasebo Naval Base in Kyushu, the southernmost of Japan's four main islands.
During the two Okinawa events, executives heard from dozens of civilians who could not find medical care in Japanese hospitals. Service members took the stand to say military readiness was affected by DHA's decision to limit treatment at primary care facilities to civilian employees who are not covered by Tricare Prime, the highest-level military health plan.
Since January 1, many DOD civilian employees, their families and some veterans have been limited to the same day, available appointments for immediate medical needs, according to the decision announced by Heck last year. In October, he said those affected by the change should seek health care in the Japanese community.
Nearly a dozen civilians described staff shortages, long waits, Japanese providers refusing to treat Americans and high up-front costs when treatment was available.
The complaint cited statements Monday at Yokota Air Base and Tuesday at Camp Zama and Yokosuka Naval Base. The meeting in Yokosuka, like Foster, was marked by audience outbursts in the answers of the undersecretary and assistant secretary.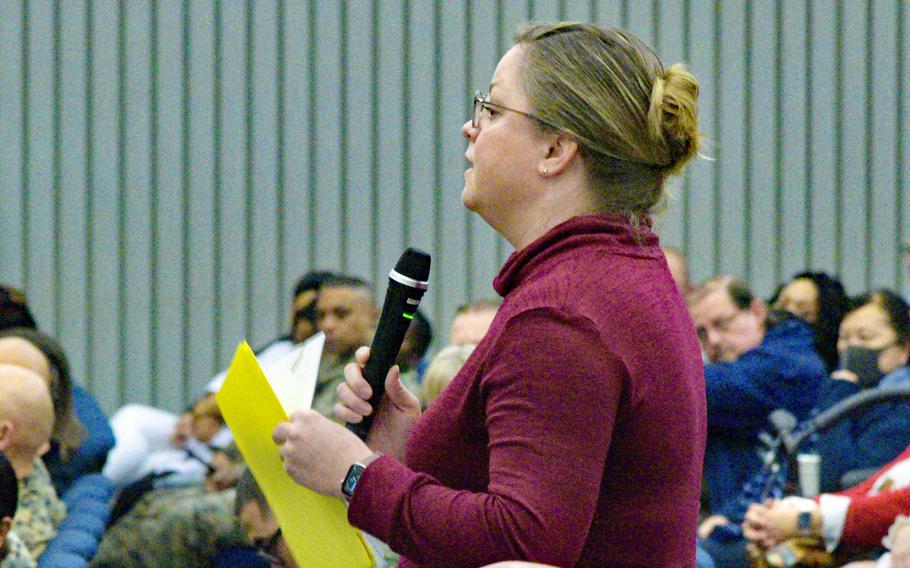 Foster's exchange grew testy at times as the audience laughed or shouted rebukes at Cisneros.
The executives, who made the same statement at a previous town hall, did not offer a concrete solution but said they would take the information gathered at the town hall back to a Pentagon working group trying to find medium and long-term solutions to the crisis.
"We're looking for ways to do better," Cisneros said.
He said everything is on the table within the limits of the law to try and resolve the issue. Last year, Heck said DHA has been ordered by Congress to prioritize health care for active-duty service members and their families over care for DOD civilian employees.
In Kadena, dozens queued to question the DHA's decision.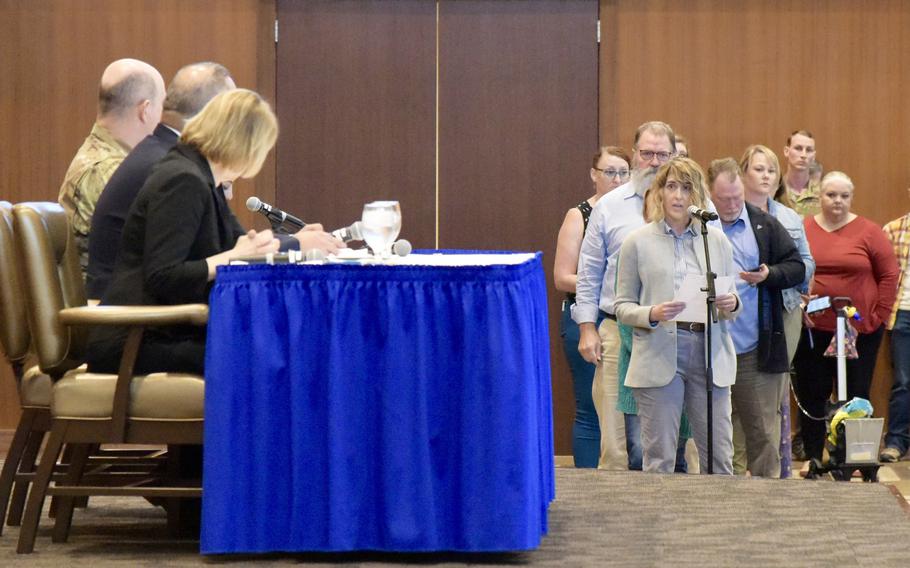 Army Lt. Col. Aaron Brown, commander of the Naha Military Port in southern Okinawa, asked Cisneros and Mullen to address the issue. Brown said 30% of his staff were civilians who told him they would refuse their jobs without assurances of access to health care at military treatment facilities. He called for the policy to be revoked immediately.
"This is bigger than policy; we're talking about a joint force projection in the South Pacific in response [Chinese army]," said Brown. "We don't have time for bureaucracy to fix specific problems like this."
Marisa Strickland, a Defense Education Activities elementary school teacher and president of the American Association of Educators in Okinawa, said one of her members was denied patient care at a Japanese hospital after suffering a stroke.
The pregnant teacher miscarried at 17 weeks after being denied prenatal care at the U.S. Naval Hospital Okinawa and at a Japanese hospital, Strickland said.
"These are just a few of many, many examples," he said. "During COVID, we are considered mission critical. You can't have it both ways; if we are mission critical, then so is our healthcare.