AI and automation combine to increase productivity and efficiency on farm operations, says Ray Poh, Founder and CEO of Artisan Green Global TechNode Questions and Answers. "AI helps reduce the time it takes to manage the farm and conduct experiments because it can recognize and process data at a rate and volume that allows us to make informed decisions immediately," he shares .
Read on for the full interview.
---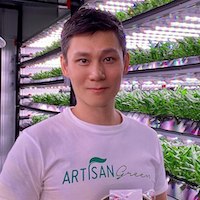 What trends are driving innovation in the agri-food industry today? What role does technology play in optimizing these industries?
The global state of food security during the COVID-19 pandemic has further highlighted the numerous inefficiencies and inequalities in access to fresh and nutritious food around the world. Even a highly developed country like Singapore failed when supply chain disruptions hit food supplies at the start of the pandemic, the long-lasting effects of which are still being felt in the economy today, with Singapore's core inflation recently hitting a staggering all-time high of 4.8 percent in July!
Singapore had ranked first in the 2019 Global Food Security Index for the second straight year, but was not spared as countries closed their borders and struggled to maintain supplies for domestic consumption versus exports. And this has further compounded the food security problem in Singapore which only produces less than 10% of our food! In recent years, shortages in vegetable imports and even Malaysia's recent export ban on fresh chicken have highlighted our urgent need to strengthen not only food security but also self-sufficiency.
In a small city-state with limited land area like Singapore, survival has always been the government's top priority since independence. This can be seen in our holistic water strategy, which has taken Singapore from full dependence on water imports to partial water self-sufficiency since the mid-2010s. However, the situation is different with our food supply. Due to our strong trade links, Singapore imports over 90 percent of its food from over 170 locations around the world.
This food strategy worked well until the recent crises, when it has now become clear that the nation's efforts to become self-sufficient need to be accelerated. One such initiative is the 30 by 30 target set by the Singapore Food Agency (SFA) – to build the capacity of the country's agri-food industry to produce 30 percent of food needs locally and sustainably by 2030.
Can you briefly describe your background? How did Artisan Green come about?
Coming from a non-agricultural background, I spent the early years of my career in the casino gambling industry. I served as Chief Operating Officer of a casino gaming production company and a casino operations company in Macau. After six years, I wanted to venture into other industries, with a focus on sustainability and future technologies. This led me to look into indoor farming and growing plants using hydroponics. I wanted to start a modern indoor farm that integrates agroscience, automation and AI and saw an opportunity in the AgriTech space where there are gaps in the integration of science, engineering and commercial viability.
Artisan Green was founded with the aim of becoming one of the world's leading environmentally controlled farms. The incorporation of AI and automation emerged as a necessity to increase productivity and efficiency in operations. AI helps reduce the time spent managing the farm and conducting experiments because it can recognize and process data at a speed and volume that allows us to make informed decisions immediately.
One example is our Precision Nutrient Injector, which is able to automate the precise dosing of any type of nutrient profile for plants as needed. This halves the time required for research and experiments and saves nutrients and water by 50 and 90 percent respectively. Another iteration we're incorporating into our forthcoming new farm is our automated storage and retrieval system, which automatically moves crops to different stations, from seed to post-harvest, reducing the need for manual labor.
How is food production innovated by technology? What advantages does this have compared to a simple optimization for the current supply and demand situation on a regional level?
We are also currently building a digital twin of a plant with a stored database of parameters, allowing us to expose it to different climatic conditions and nutrient formulas and to simulate real plant reactions. This speeds up the research process without having to go through the time-consuming process of going through multiple iterations of experiments.
However, in land-poor Singapore, locally grown produce is definitely more expensive due to limited resources and lower economies of scale. Consumers have always complained that locally grown produce has always been more expensive than cheaper imports. But we have found that a majority of consumers are still willing to pay a premium for regional products. For Artisan Green, we are taking conscious steps to lower the prices of our products as new farm building technologies are optimized for power savings and scalability.
Still, supporting local indoor farming products has the benefit of having a much smaller carbon footprint as the products travel a short distance to supermarkets compared to the longer distances of imports, are pesticide free and due to the technology and Due to the specific way of cultivation, local products can even stay fresh in the refrigerator for over two weeks, which is about three times longer than imported ones.
Ultimately, every package of local products purchased helps companies invest more in research and strengthen self-sufficiency with food. In addition, consumers can put a face to the people who grow the products and thus indicate the origin of the food they eat.
What is your vision for food sustainability in Singapore?
As more consumers become aware of the pitfalls of a nation that relies primarily on imports, shifting the consumer mindset towards local produce will require the conscious and concerted efforts of government, consumers, and eventually innovation from the farms themselves. Through Artisan Green's next generation farm, we aim to contribute 25 tons of local produce monthly to Singapore's supply and provide the community with a healthy and affordable option. 30 times 30 is an ambitious goal, but with enough support from government, farmers and consumers, we will be able to reach it.