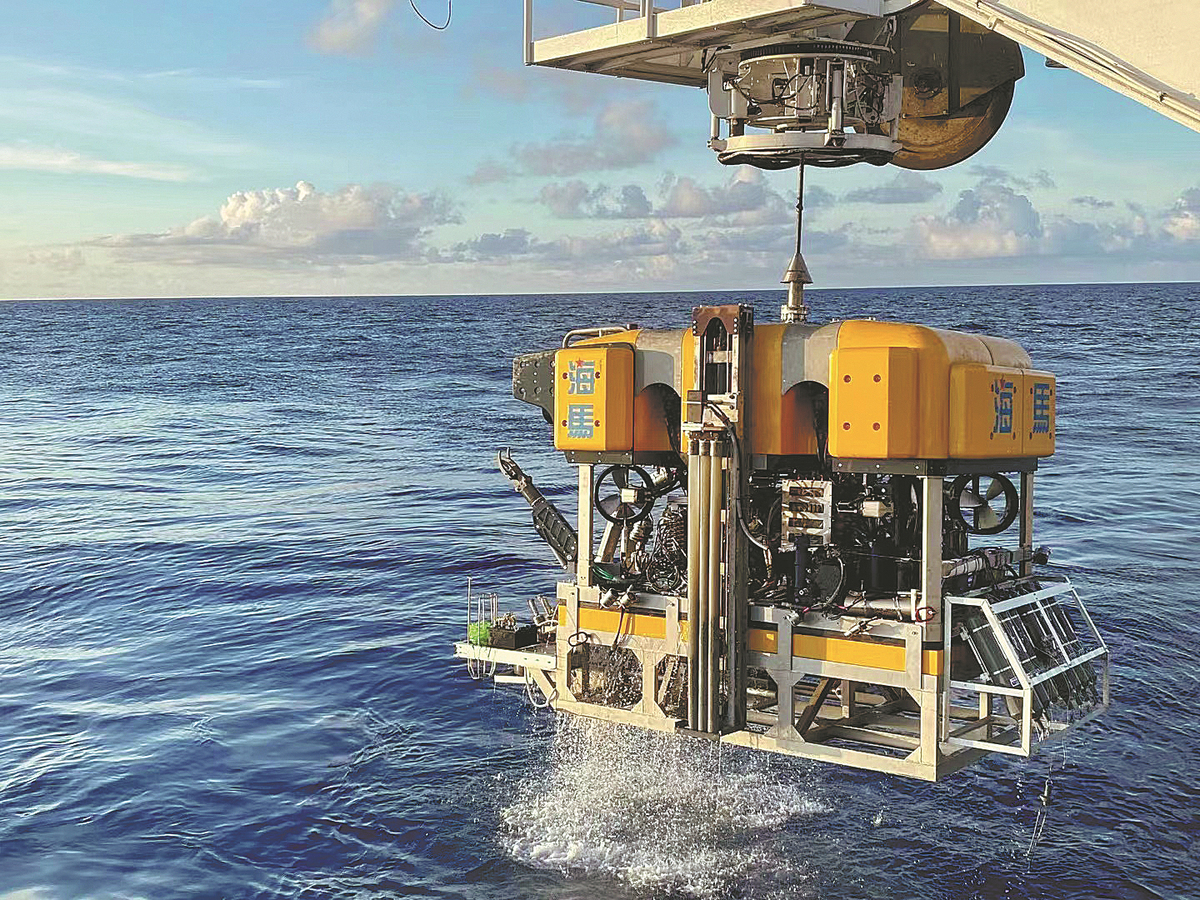 Stronger development
Cheng and her Hong Kong marine scientist colleagues were recommended for the mainland-funded ocean expedition by the institution they work for — the Hong Kong branch of the Southern Marine Science and Engineering Guangdong Laboratory (Guangzhou) at HKUST.
Established in 2019, the branch was co-founded by the Innovation Academy for South China Sea Ecology and Environmental Engineering at the Chinese Academy of Sciences, the Guangzhou Science and Technology Innovation Committee and HKUST. The branch aims to strengthen marine science development in the Guangdong-Hong Kong-Macau Greater Bay Area and promote cross-border cooperation for Hong Kong oceanographers.
Qian Peiyuan, a veteran marine scientist and director of the branch, said Hong Kong can play a bigger role in drafting the national marine economy and marine policy. The city has many top research universities and talents, and in recent years it has paid more attention to technology and innovation, he added.
Hong Kong occupies a sea area of ​​1,641.21 square kilometers. Known for its lack of land, the city has reclaimed 77.6 square kilometers of sea in the last 130 years. It also boasts a world-class container port – the Kwai Tsing Container Terminals – and Victoria Harbour.
However, the city is little known for its marine sciences. The 2022 QS World University Rankings ranked three Hong Kong universities in the top 50 in the world – the University of Hong Kong, the Chinese University of Hong Kong and HKUST. However, in Earth and Marine Sciences, only one of these universities was ranked 50-100, while the other two were not in the top 100.
Qian, who has been studying oceanography in Hong Kong for nearly 30 years, said that due to historical and political reasons, the city's marine science community pays little attention to waters outside the city limits and mainly focuses on marine biology in local waters, including environmental protection and environmental protection.
Although marine conservation and biodiversity protection are important to Hong Kong, marine science covers a much broader spectrum that includes physics, chemistry and geography, among others, Qian said.
Since Hong Kong's return to the motherland in 1997, the city has accelerated its integration into the country's overall development, leading to greater cross-border collaboration among the marine science community.
Hong Kong's first national-level marine laboratory, the State Key Laboratory of Marine Pollution, was established in 2010 at the City University of Hong Kong. A branch of the lab was also opened at the Education University of Hong Kong in 2018.
In 2019, Cheng's institution opened and surveyed the ecosystem and ecological security in the South China Sea, including the Greater Bay Area, and new technologies for exploiting biological and microbiological resources in the region.
Over the past three years, dozens of researchers from HKUST and other local institutions have been recommended by Cheng's institution to take part in four government-funded expeditions in the South China Sea and the Pearl River estuary. Such an opportunity, held on average once a year, allows more Hong Kong researchers, especially the younger generation, to gain first-hand experience and insight into marine science.
Last summer, Frances Xiao Yao, 26, who is studying marine environmental sciences at HKUST, boarded a research vessel bound for the South China Sea. Before studying in Hong Kong, Xiao completed her basic marine science education on the mainland, but had yet to join an ocean expedition. The trip turned out to be an eye-opener for the young scientist.
"Through the ROV's cameras, I saw the real deep-sea environment and the way samples were collected. The trip gave me a deeper understanding of the complexity of this environment," she said.
Participation in these programs gives Hong Kong oceanographers a rare opportunity for face-to-face communication with their mainland counterparts, as most transboundary exchanges over the past two years have taken place virtually due to the COVID-19 pandemic.
Cheng said, "It was a great experience collaborating and learning from researchers from different institutions. Some of them may have a chance to become our potential partners."
Qian, who is also a chair professor in the Department of Ocean Science at HKUST, said greater cross-border cooperation would help Hong Kong's marine scientists tap into the country's best scientific resources.
It costs hundreds of millions of yuan to build an oceanographic survey vessel, which no local institution can afford, Qian said, adding that mainland institutions also have advanced equipment unavailable in Hong Kong.
After returning to the city in mid-June, Cheng sent the samples she collected from the South China Sea to a lab in Beijing for genetic sequencing. Although she is still awaiting the results, she believes they could help her conduct further research.
As more Hong Kong scientists join national programs, the local branch of the marine research laboratory has enhanced cross-border collaboration by inviting more mainland and overseas scientists to join its work. The branch now has a total of 98 oceanographers from Hong Kong, the mainland and overseas as members.
The branch was established as Hong Kong's innovative and technological ambitions were backed by strong support at the national level.
In June 2017, 24 Hong Kong academics from the Chinese Academy of Sciences and the Chinese Academy of Engineering wrote a joint letter to President Xi Jinping that they wanted to contribute to the country's scientific and technological development. Xi attached great importance to her wish and issued instructions to promote scientific cooperation between the mainland and Hong Kong.