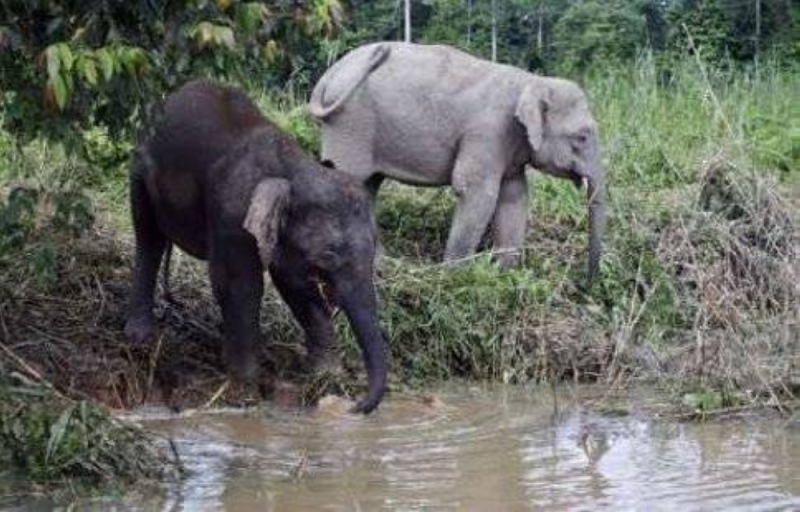 Both the Borneon banteng and Borneon pygmy elephant are listed as vulnerable with an estimated population of 500 and 1,500, respectively. — Reuters image
By Julia Chan
Thursday, September 22, 2022 5:19 PM MYT
KOTA KINABALU, Sept. 22 – After the loss of Borneo's own Sumatran rhino, Sabah's conservationists are making plans to ensure other species – like the Borneon elephant and Borneon banteng – do not go extinct in the future.
The director of the Sabah Wildlife Department said some of the lessons learned from the failed conservation of the "hairy rhino" are to be proactive in ensuring no species becomes so rare that recovery becomes too difficult, and to intervene early if and when possible.
He said several efforts are already underway to ensure the survival of the Borneon banteng, or wild cattle, and the migrating Bornean elephants, including a "targeted habitat improvement" that will improve grassy pastures in the Tabin Wildlife Conservation Area reserve developed .
"Already on five hectares of pasture land planted on an old forest road, there was a three-fold increase in births in the same herd of Borneon Banteng this year compared to any of the previous three years," he said.
Another location for elephants is being developed in Tabin.
"The idea is that over time elephants will tend to stay in the reserve because there is more food there," he said.
Both the Borneon banteng and Borneon pygmy elephant are listed as vulnerable with an estimated population of 500 and 1,500, respectively.
One of the other proposals in the book is the establishment of new populations of endangered species in appropriate conservation areas, which has been done with some success in the translocation of orangutans to Tabin in the 1990s and elephants from problem areas in central Sabah.
However, introducing wildlife into areas they are unfamiliar with comes with its own set of problems.
"A third idea is that large landowners could contribute space for wildlife. In other words, we don't necessarily have to rely solely on government-designated forest reserve lands for wildlife.
"The idea is already being implemented in the Kinabatangan region, where at least two NGOs are planting orangutan food crops on set-aside land such as riparian zones, steep slopes and swamps within oil palm plantations," Tuuga said.
Tuuga said this during his speech at the launch of the book The hairy rhino written by conservationist Datuk John Payne. His speech was read by his deputy, Roland Nuin.
The department will also engage in "conservation breeding," or breeding of animals in captivity in tightly managed, individually designed, fenced facilities.
"At this time, my department is planning to create a breeding herd of Bornean Banteng in captivity. Such programs should not be taken lightly as they require cost, time and dedicated staff.
"However, we believe in the Bornean banteng because it is a member of the cattle family and the methods of cattle husbandry and reproduction are very well known," he said.
The department is also keeping options open for future technologies in assisted reproductive technology, where animals of today can pass their genes on to future generations of rare species, including those of the Borneon rhino whose cell samples are being preserved.
He said semen samples containing sperm from 11 wild animal species native to Sabah, including the pangolin, sun bear and clouded leopard, are being stored in liquid nitrogen.
Aside from early and active interventions, Tuuga said that protection and law enforcement are also vital and some form of habitat management, or even the animals themselves, may be needed to conserve or restore the most endangered wildlife species.
Tuuga said the book is an important historical record and a guide for the future, not just in Sabah but worldwide.