30 million dollars Build to Rent project to support vulnerable women and children has been completed in Dandenong, the first of its kind in Australia.
Designed by ARM Architecture for specialist homeless organization Launch Housing, the project called Viv's Place will provide permanent housing and full-service support for up to 60 women and 130 children fleeing family violence and homelessness.
The accommodation model provides tailored support for women and children with access to on-site skills courses, health care and legal assistance, as well as permanent, purpose-built suites for ongoing advisory care. Inspired by successful models like the Sugar Hill project in Manhattan, the design is backed by seven years of research and consultation.
"It's a housing model equipped with support facilities to allow for care and community support within the building itself," said ARM director Andrew Lilleyman.
Viv's Place is equipped with a range of apartment types – from studios or single beds to three-bedrooms – to suit a variety of family arrangements, from single-parent households to multi-generational families.
The project deliberately goes against the grain of preconceived notions of social living and shows how these living models can be "generous and opulent" even on a tight budget – spatially, functionally, aesthetically and communally.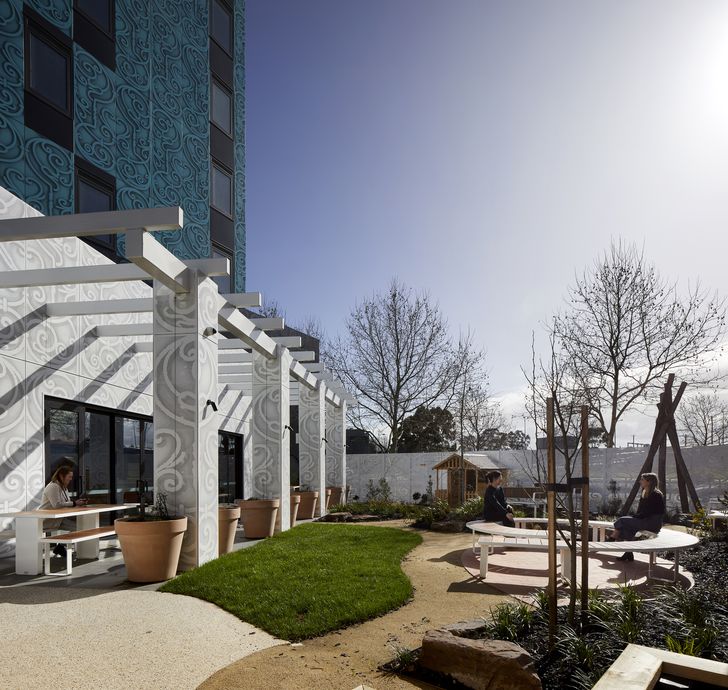 The building eschews conventional sterile apartment design and wraps the interior and exterior spaces in materials, patterns and colors more in keeping with a traditional home. These include terracotta tiles, colored wallpaper, wrought iron lacework, and gardens that encourage a sense of belonging and tranquility.
Lilleyman said this dignity-enabling model is designed to help residents feel a sense of ownership by using trauma-informed design principles to encourage connectivity and comfort.
"Given the clientele for this building, we designed a vibrant, colorful, patterned building that deliberately moves away from social housing models that are austere and institutional in both appearance and function," said Lilleyman.
Andrea Wilson is Director of Interior Design at ARM. She said the material choices for the common spaces are about "collecting a range and assemblage of surfaces associated with a diversity of different cultures," with design details reminiscent of Killim rugs, a "tent" of a library with an interior described as "wallpapered library artwork" and adorned with blue urn wallpaper reminiscent of the Mediterranean.
Lilleyman said the project is "pushing the boundaries" of what residential design can do. "The sense of identity and belonging is important to a building like this and its occupants, and the patterns and concepts that go into the design create that environment," he said.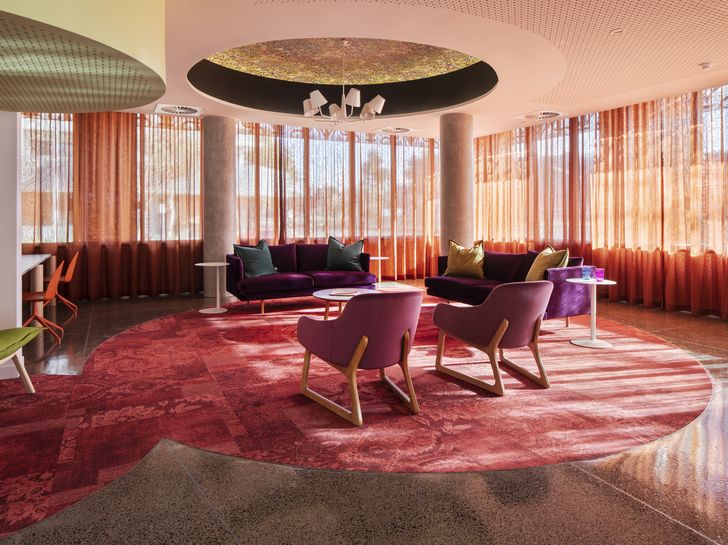 The communal indoor space is designed to accommodate people with special needs, offering opportunities for socializing, tranquility and privacy. "It's a voyage of discovery," Wilson said. "There is a central sofa area, but there are also a number of discrete alcoves that create very strategic breaks between play and rest areas."
According to Wilson, Viv's Place helps challenge the notion of what's possible for interior design in community and low-budget projects. "There's a tremendous amount of material to choose from that is provocative and captures the imagination," Wilson said. "It's an interesting thing to go away from just color blocking or textures, which are the standard approaches, to something that's a lot more inspirational. We're moving away from something institutional and adding pattern and color in a way that fills a space that might feel empty."
Launch Housing chief executive Bevan Warner said he hopes the building will be a prototype for future social housing that "moves away from institutional design".
"Solutions like Viv's Place are critical to breaking the cycle of intergenerational homelessness and giving children a good start in life," Warner said.
The project was funded in part (40 per cent) by the Victorian Government, with the remainder of the funding coming from philanthropic donations from the Australian Nursing and Midwifery Federation, the Shine On Foundation, the Ian Potter Foundation and Gandel Foundation, and the Friday Family of Melbourne.