Arnold has already shown his willingness to change teams if he thinks it will help the Socceroos after taking off his skipper when it went to penalties in the World Cup play-off against Peru and Andrew Redmayne for penalties sent that would make him an instant national hero – a shock cry that an unsuspecting Ryan graciously embraced.
Ryan, 30, is the hot favorite to keep the gloves but would have been far more vulnerable to being replaced by Langerak had he not joined Danish Superliga giants FC Copenhagen this season. Previously, he had suffered a dry spell at club level.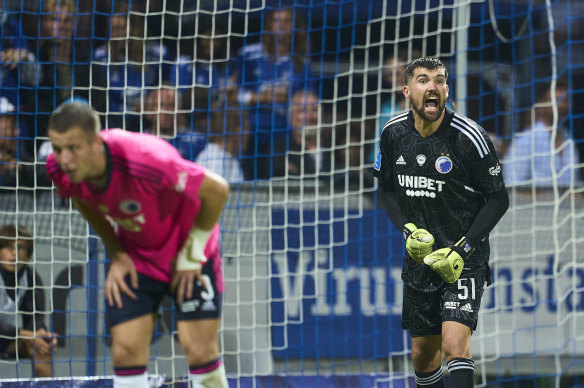 Ryan was suddenly frozen by Graham Potter at Brighton and Hove Albion in late 2020 after three years as a Premier League regular, and has watched just 540 league minutes at Arsenal and Real Sociedad in the last two seasons.
Now Ryan faces the world's deadliest strikers in the UEFA Champions League, a tournament he is witnessing for the first time in his career. After qualifying after a five-year absence from the group stage, Copenhagen meet Borussia Dortmund and Sevilla, who both drew 0-0 last week. A showdown awaits next month between the red-hot Erling Haaland and Manchester City, the other team in Group G.
"It's going to be a big challenge, and if we're going to face him, if we manage to keep him calm and not let him score, isn't it [let] City achieved a result that we will never forget as a club and as individuals," said Ryan.
"That's the great thing about playing at the highest level. You can compete with the best teams and players in the world. That's what we're going to do with the upcoming World Cup [too]. As a goalkeeper, you dream of keeping a clean sheet in the Champions League."
Loading
Ryan says he learned a lot from his experiences in England and Spain as he navigated the mental challenges that come with not being the first-choice goalkeeper at his club and is proud of the level at which he played when rare opportunities presented themselves.
"I always felt like I was ready and prepared, I always trained as hard as I could… [that's] why I was able to play some of the probably best games of my career [in that period]," he said.
"Playing more regularly don't get me wrong, I'm enjoying it a lot more than the circumstances I've been in. But as for my shape, I really don't find too many differences. Externally, for Arnie and other people out there, when they see someone playing regularly it ticks more criteria, although even though I didn't play regularly I still felt like I was planning at a really high level."
Watch them UEFA Champions League, UEFA Europa League and UEFA Europa Conference League group stage matches on Stan Sport. To be continued on Wednesday 5 October.