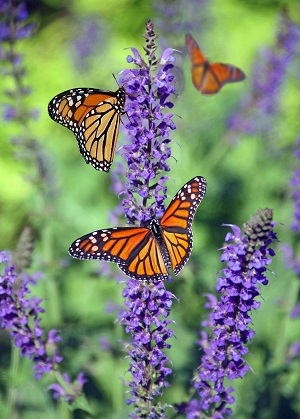 The Pollinators Action Plan reinforces Somerville's commitment to creating a healthy environment for pollinators – including bees, moths and butterflies – which are critical to a thriving urban ecosystem
The City of Somerville is pleased to announce the formation of an Advisory Committee to work on a Pollinator Action Plan that prioritizes the health of local pollinators to create and maintain a healthy and biodiverse urban ecosystem. The plan is the first of its kind in a city as densely populated as Somerville.
More than 75% of all flowering plants depend on pollination to survive, including thousands of crop species worldwide, but due to habitat loss and pesticide use, pollinator populations are declining in New England and worldwide.
"In Somerville, we are committed to supporting the health of all of our residents, human and non-human alike," Mayor Katjana Ballantyne said. "Communities have the power and responsibility to support pollinators through our policies, designs and public engagement. We hope the Somerville Pollinator Action Plan, created in partnership with the community, becomes a model for protecting pollinators and wildlife in challenging urban environments."
The Pollinator Action Plan is part of an ambitious plan by the Ballantyne government to support, protect and conserve urban pollinator ecosystems, including Mayor Ballantyne's signing of the Mayor's Monarch Pledge, research collaborations with the Tufts Pollinator Initiative and the creation of pollinator gardens across the city .
In recent years, Somerville has also enacted a Native Plants Ordinance, requiring certain percentages of native species to be planted on the city's land. passed a Tree Protection Ordinance restricting the removal of healthy trees, many of which are important sources of food and shelter for pollinators; and led an ongoing public education and removal campaign to control and reduce populations of milkweed, an aggressive and invasive alien plant toxic to monarch butterflies.
"We know from our research that dozens of pollinator species are already using gardens in Somerville," said Dr. Elizabeth E. Crone, professor of biology at Tufts University and resident of Somerville. "Creating more gardens like this will immediately provide resources to these species. In addition, more gardens will also allow new species of pollinators – those that need a bit more green space – to move to the city."
The Somerville Pollinator Action Plan (SPAP) is forming an advisory committee to identify ways to create the best habitat for Somerville-specific and regional pollinators and wildlife in the city. The Advisory Committee will work with city officials and a team of consultants comprised of experts in pollination, ecology, horticulture and the urban environment to understand the actions a community can take to create the best environment for pollinators. To apply, please fill out this form by October 21stSt2022.
Learn more at somervillema.gov/SPAP or email [email protected]
The City of Somerville does not discriminate on the basis of race, color, religion, age, national origin, disability or any other protected category. Tools and services, written materials in alternate formats, and appropriate changes to policies and procedures are provided free of charge to qualified applicants and employees with disabilities upon request.
Individuals with disabilities who need tools and services for effective communication, written materials in alternative formats, or reasonable changes in policies and procedures to access City programs and activities or to attend meetings should contact the ADA Coordinator turn to the city. Adrienne Pomeroy, at 617-625-6600 x2059 or [email protected].